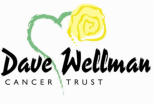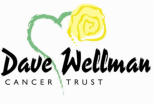 We all at the 2013 ball had a wonderful night, and we raised with our pledges £30,000. This was a special event that my
sister Terri helped me with and as she is going through her own journey, the roller coaster of the organising was stressful,
but rewardihng, yet again helping so many poeple. If we did not do what we do, the care and treatment we get may not
be so forthcoming, thank you all again to my wonderful friends who were there as always to support me. Research,
research, research, I can't stress enough how vital this is. Thank you again to all who put their hands in their
pockets....You have all helped me to achieve great things for those who suffer. Thank you Kev Orkian for a amazing
entertainment and also Alex Ashe and Micky Pugh.

How it all started.
My name is Tina I founded the Dave Wellman Cancer Trust in 1999. I am passionate about raising
funds to help beat cancer and to help support relatives and friends of sufferers. We are now pleased to
say that we are at the Quarter of a Million stage.... its been a passionate ride, meeting people who have
made a difference and to those who are no longer with us.Dave, my late husband, died in August 1999
from lung cancer and I decided to run my first Ball on 1st April 2000, Dave's choice of date… his sense
of humour was there until the end! The first ball was to raise funds to thank Professor Peter Johnson
and his team at The Cancer Sciences Building SGH who looked after Dave whilst he was poorly. Both
Peter Simmons and Prof. Peter Johnson showed nothing but kindness and support to us both. Even
when the news was terrible, we were made to feel there was some hope!
The wonderful Spanish Night on the Princess Caroline on Saturday 8th
June 2013, raised well over £300 towards our work and we would like
to extend a huge thank you to Andi and Jay, and not forgetting the
wonderful staff. What a great bunch of guests on what turned out to
be a glorious day. Thank you also for your massive contribution in
making the Piam Brown annual trip a wonderful day.
Join us again next year for the Strawberry Walk around the lovely
coasts of Hamble. Registration is at 11am at the Royal Victoria
Country Park and you can either walk the 6 mile or 4 mile. You
get your own running number and at the finish you have your
strawberries and cream, last year kindly donated by Axton's and we
hope they may do the same this year :-). The fee is £10 and if you
feel like you want to raise more I can give you sponsor forms. Bring
your dogs along and the children go free. A great family day out
taking in the beautiful Hamble shores. This trip funds our childrens
days out and also we continue to raise money for the Dave Wellman
Lab at the Cancer Sciences Centre at the Southampton General,
Piam Brown Childrens cancer ward - special days out, Countess
Mountbatten Hospice and Jane Scarth House, as well as individuals
and familes living with cancer. Please click on the arrow to be taken
to the flyer where you can download and fill in and send to Tina.
Strawberry Walk 7th September 2014
This year has been amazing, I won the regional Nat West Venus "Lifetime Achievement" Award sponsored by Condor.
I am delighted to say that I am now in for a chance of winning the "Lifetime Achievement" National Award.
This would be the icing on the cake. The Finals will be held at the beautiful Rhinefield House on 22nd November.
Thanks to Tara and the team for making this possible and this would be a great honour - Fingers crossed!